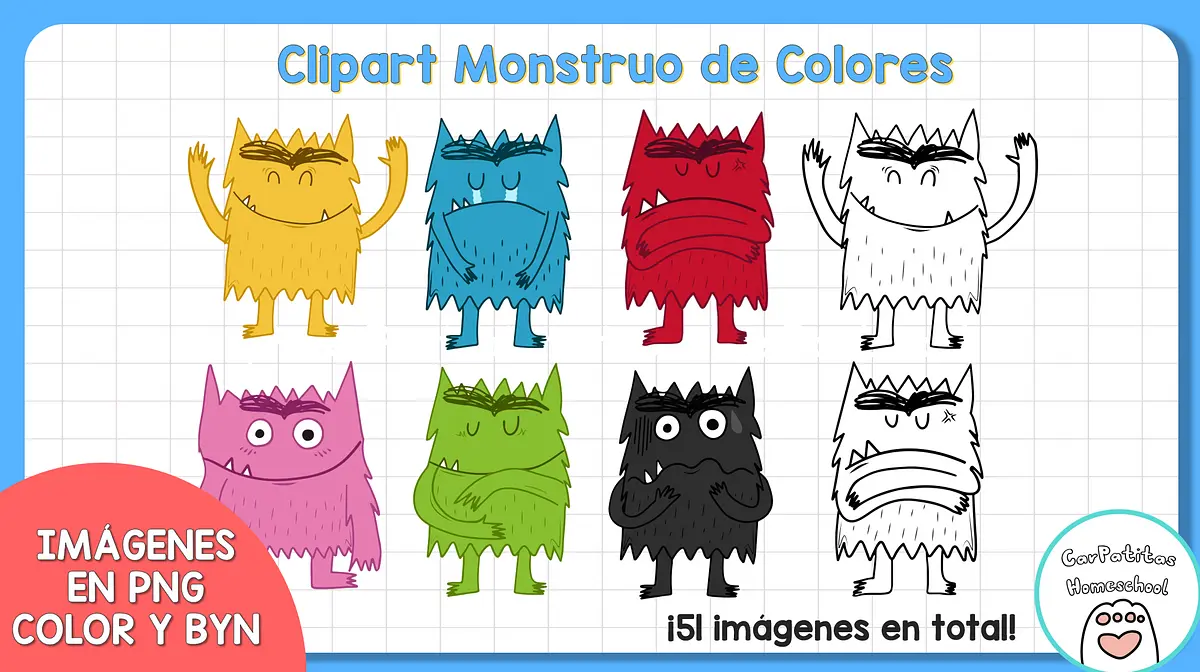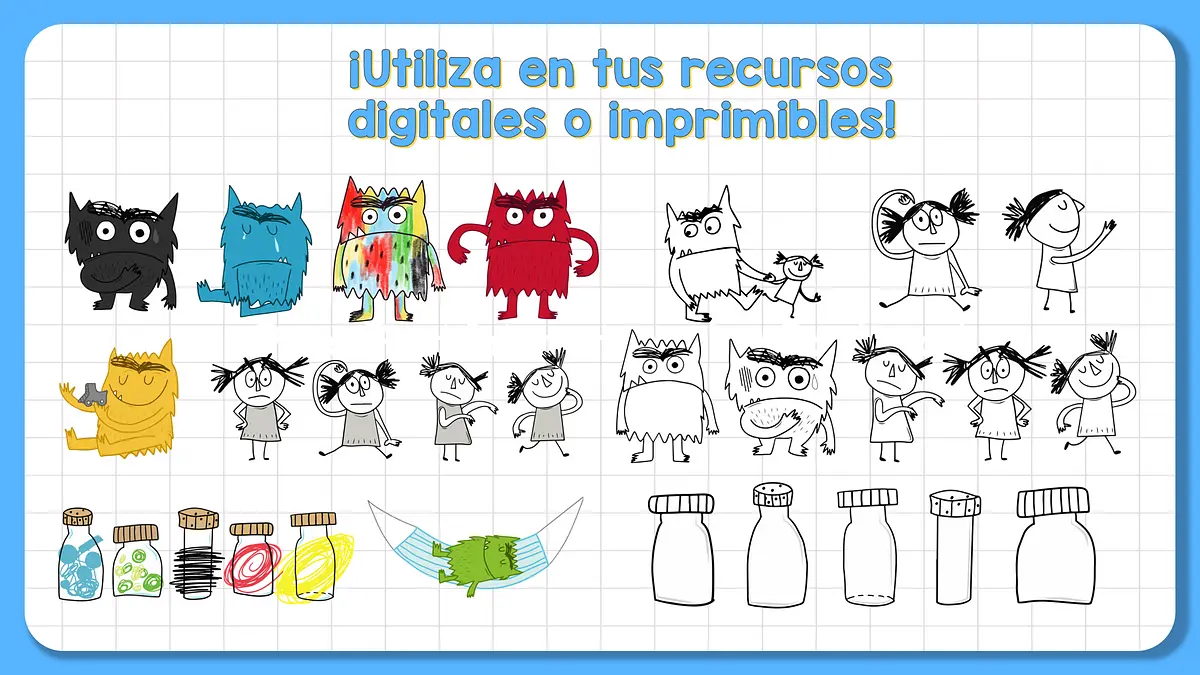 Clipart Monstruo de Colores - Color Monster Clipart (Basado en el libro de Anna Llenas)
---
Clipart del Monstruo de colores para crear tus propios recursos (gratis o de pago!). Se incluyen 26 imágenes distintas en formato PNG del Monstruo de Colores de Ana Llenas.
Incluye 2 monstruo de cada color, la niña (Nuna) con sus emociones y los frascos vacíos y con colores.
Dentro del archivo comprimido encontrarás: 
Carpeta Color: 26 Imágenes a color con fondo transparente
Carpeta Blanco Y Negro: 21 Imágenes en blanco y negro con fondo transparente
Términos de Uso en Español e Inglés
Estas ilustraciones están basadas en el cuento y hechas con mucho cariño, la calidad es excelente y te sirven para tus recursos digitales o impresos tanto que quieras dar gratis o comercializar (revisar
términos de uso
).
¡Espero que les guste!
---
Color Monster Clipart to create your own resources (free or for commercial use!). Included are 26 different images in PNG of Ana Llenas Color Monster.
Includes 2 monsters of each color, the girl (Nuna) with her emotions and the empty and colored jars.


Inside the zip file you will find:
Color Folder: 26 Color images with transparent background
Blanco y Negro (Black and White) Folder: 21 Black and white images with transparent background
Terms of Use on English and Spanish
These illustrations are based on the story and made with great care, the quality is excellent and they are useful for your digital or printable resources for free or commercialize (check
terms of use
).
Hope you guys like! And if you use tag
@carpatitas.homeschool
to see your creations, I really like it when you share with me!
---
Contains
Clipart Monstruo de Colores (File .zip)
Archivo comprimido (Zip) con imágenes en PNG a color y en blanco y negro.
Archivo comprimido (Zip) con imágenes en PNG a color y en blanco y negro.
---
To obtain it click on the following button